This post won a Replay Designer watch worth Rs 3,900 in
Discover Qvendo
contest.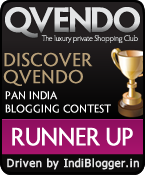 Exclusively created by 'A light hearted talk' for Qvendo


The morning sun could have enveloped itself in something more than crimson red and golden yellow
But it prefers to be in that way
For it is an indication of its style quotient.
The rainbow could have taken birth from the shades of black and white and nothing more
But it has been born in that way
For it is an indication of its style quotient.
The rain drops could have assumed a cubical or pyramidal shape
But they prefer to be in that artistic shape
For it is an indication of its style quotient.
Everything in nature tries to tell to humans residing on this planet, how stylish they are. The things in nature have evolved surviving all odds but never was anyone able to detach them from their style quotient even in the days of long struggle. When nature itself that has no well defined form of its own wishes to look appealing and stylish, we humans have to follow the path of nature.
The need to look stylish
We are living in a world that is filled with the toughest competitors. There exists abundant talent in every luke and corner of the world. Hundreds of equally talented people may give an interview but only one of them gets selected for some hidden reason. The college beauty may be surrounded by young lovers but she ultimately holds the hand of that one person for some hidden reason. Everyone in the society enjoys the same salary and the same lifestyle but not everyone is looked upon in the same way for some hidden reason. The hidden reason is nothing but the style quotient of a person.
Looking stylish makes us interesting to others. People tend to talk to us for a longer time. They respect us more than the others. It induces a feeling of pleasantness in the other person. In short, it makes us stand away from the crowd.
The style quotient
Style quotient as the Wikipedia defines ----- (Oh no! It has forgotten a very important thing) It is determined by the overall dressing sense and appearance of a person. It depends on the dress one has worn, the tied around his neck, the shoes in which his feet were pushed into, the sunglasses he uses, the belt around his waist and a lot more things. Shopping for the best items might be a herculean task but a few online shopping malls come to our rescue and
Qvendo
is one of them.
Qvendo being discovered
Qvendo
is a private online shopping club dedicated to luxury and exclusivity. It offers its online members the best in luxury fashion from around the world. QVENDO offers prestigious brands for men, women and children. They offer the members established labels as well as up and coming boutique brands at a significant savings. Qvendo is known for its door to door delivery service.
The wish list
The bloggers at IndiBlogger were asked to create a wish list of the things that they would love to shop at Qvendo. Initially, there was a cap of Rs 50 000 which made me wonder if I would be able to limit my expenditure to just 50 000 Rs and no more; and if I would not be tempted to buy everything that I would have a glance at. Luck favoured me and later on, the rule was relaxed.
According to me, style is much more than dressing oneself in the latest costumes, ignoring their suitability to us. Looking stylish does not mean casting oneself in costumes with edges intentionally torn or colour intentionally made to fade. Looking stylish implies dressing oneself in such a way that would make others respect us and does not make them look at us in an awkward way. My wish list, should balance both style and dignity. Drowsing through the catalogue a few days ago, I found the things that would fulfil the above criteria. But today, they have all vanished. Good things don't stay for ever. They are sold out too soon. I am now left with too few things to choose from and I have to compromise with them.
And here is a wish list of the things that I would love to have for myself and my friend, for there are hardly any things that fall in the category of clothes that I wear.
The duo of replay watches
A combination of gold and black always works wonders and that is the reason I choose the first of the duo. Alternate numbers have been etched in golden colour and the remaining replaced with a short dash. The watch goes well both with formal and casual wear. Though one may find it difficult to figure out the position of the hands, the watch does add to one's style quotient. The smaller dial on the watch adds to its appeal.
The other watch mixes style with dignity. The dial is silver in colour and also features red at a few places creating a good contrast. The strap is made of metal. This watch too features three smaller dial all of them again in silver colour with one of them having a hand in red.
I think that I might be the first person to roam about on the streets wearing two watches, for I can leave neither of them at home if I buy them.
True religion shoe
Here is a pair of shoes that I choose for myself. It's a wonderful combination of brown and black. This is the maximum that I can describe about it in words for I have never reviewed costumes nor have I read any on the web. But if you still wish to know something more, here are the details available on the product page:
Stitched overlays
Lace-up front
True Religion horseshoe logo
Padded collar and tongue
Textile lining, cushioning insole
Striped rubber midsole
That was all that I could choose for myself. The remaining products had a modern style of which I am not a staunch follower. But still, I would like to buy a few more things for one of my friends. And here are the details of that extended wish list.
True religion shirt nice guy
I wished to have it in my wish list as soon as I had a first glance of it on seeing the words 'Mr nice guy 'written on it. Such statements speak a lot by themselves. It is a black colour shirt sleeved men's shirt, says the description. But I wonder if it shouldn't be rightly called as a T shirt rather than shirt. It's black in colour and is made from 50% polyester, 37% cotton an d 13% rayon, said the further description, something that doesn't matter to me nor my friend.
True religion jeans bobby men
I think that this cotton blue men's denim would be a perfect match to the above self explanatory t shirt. It has belt loops and a five pocket style. (I wonder what it is!)
Another one
And here's another pair of T Shirt and jeans that I would like to have for my friend. It too features black colours: black and dark denim.
Now it's time for you to shop for at Qvendo and relish the joy of being a proud member of a luxury private shopping club. The hurdles of requesting for an entry have been eased for you. Register now using
this exclusivelink
and indulge in shopping. Re discover Qvendo and become a shopaholic.

This post has been written for 'Discover Qvendo' contest on IndiBlogger. If you have liked this entry, do vote for it here. (link will be updated soon)



You might also like:
A tribute to unrealised dreams
Acceptance and compromise.... leading to ultimate rejection
Once possessed common things becoming treasured valuables